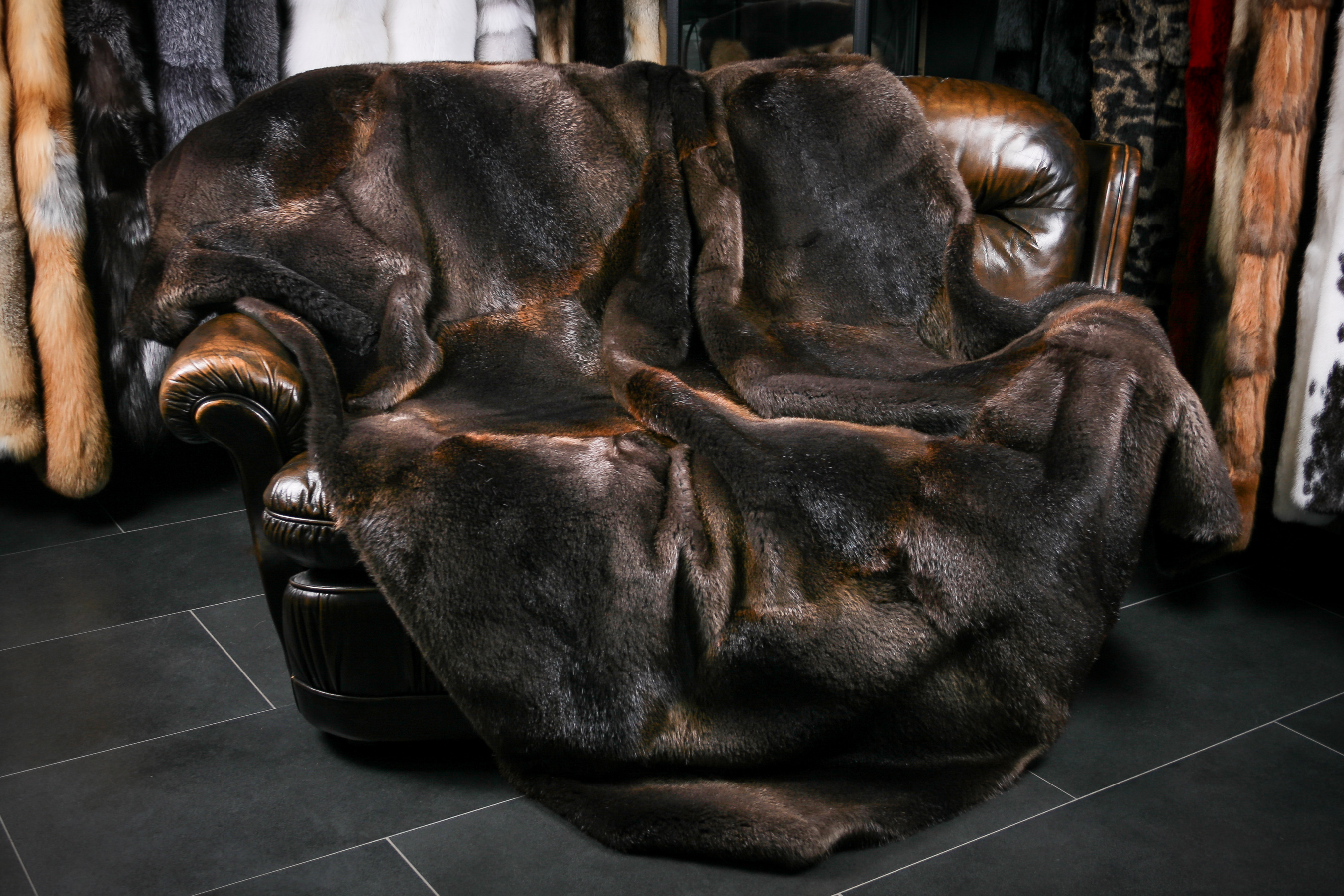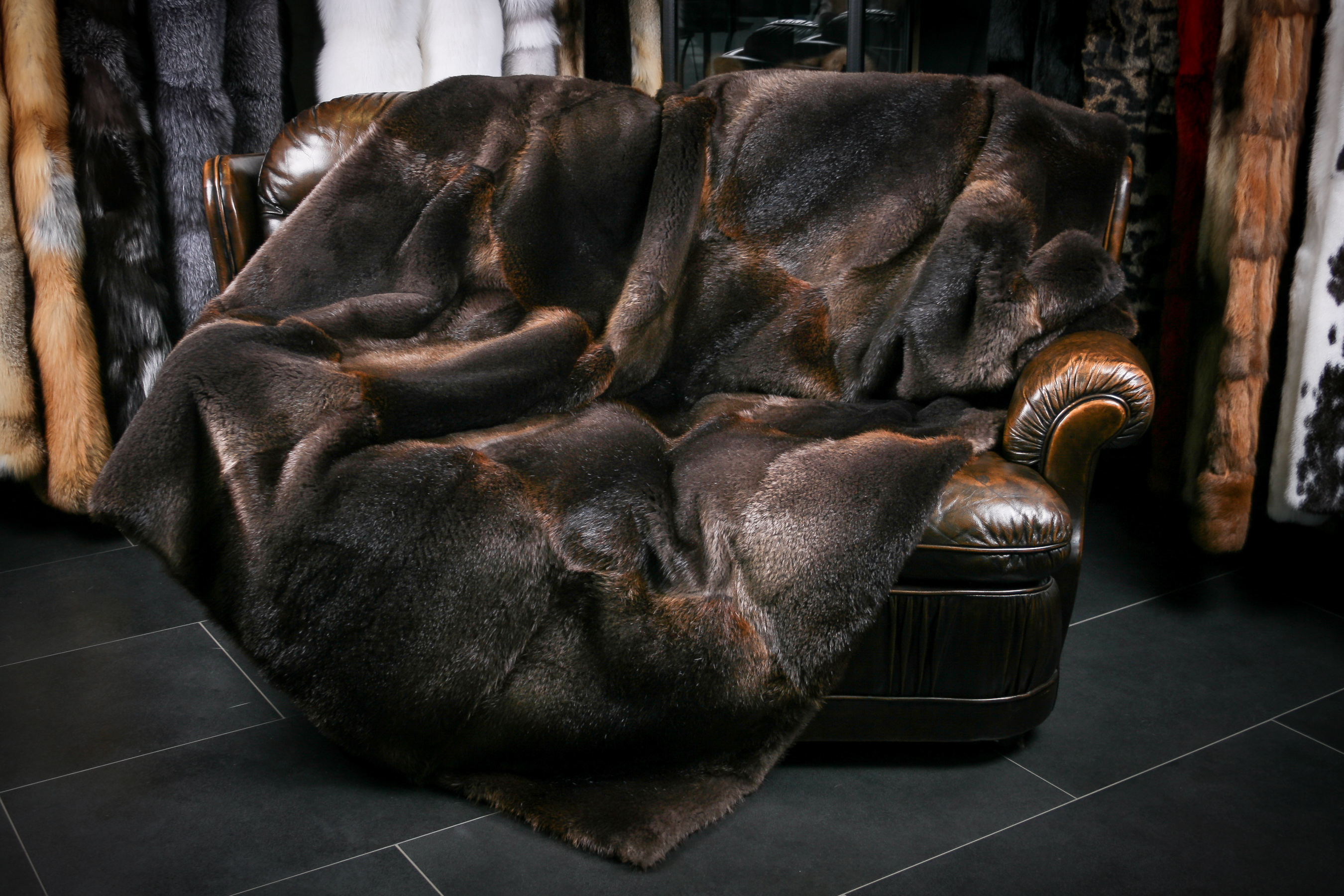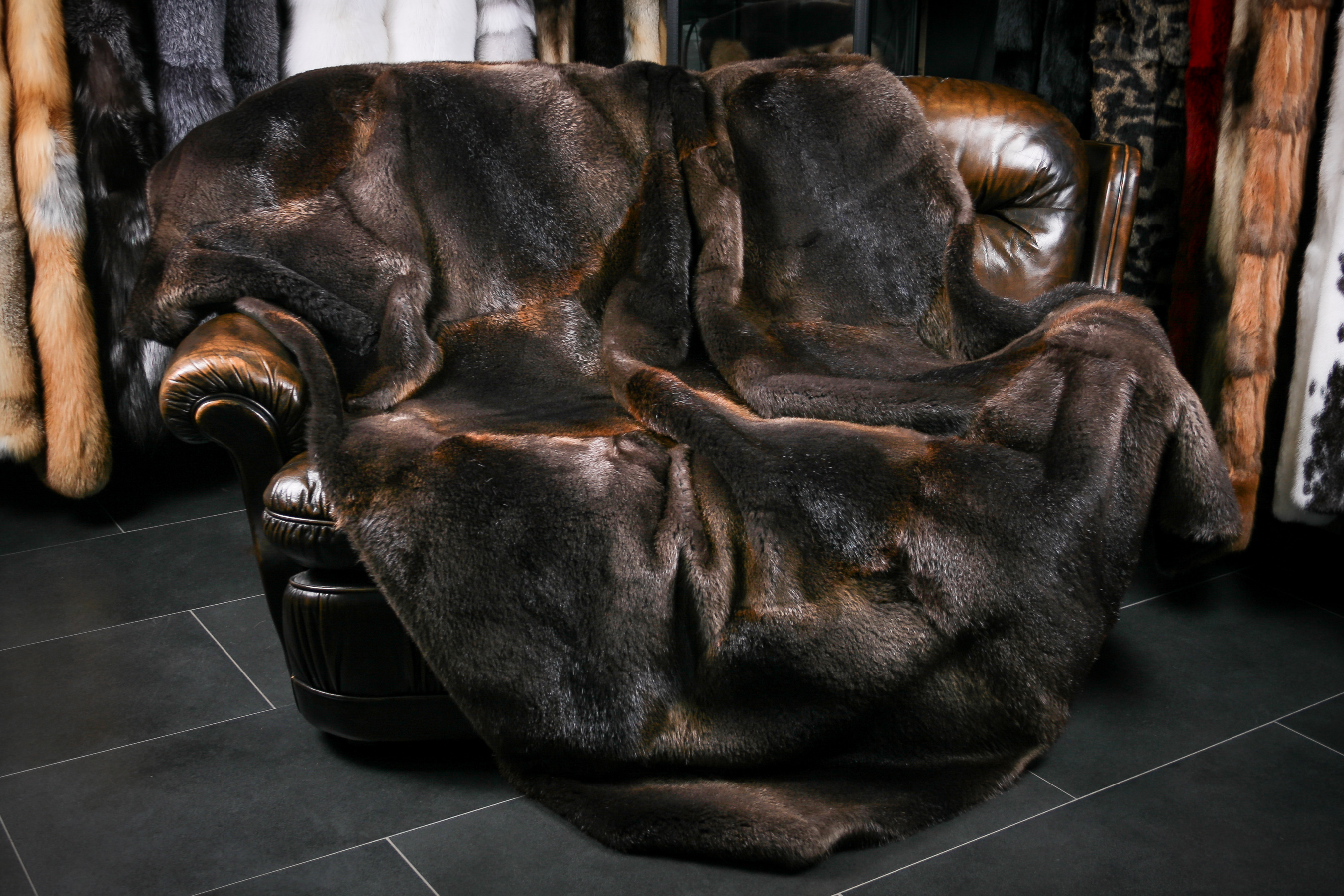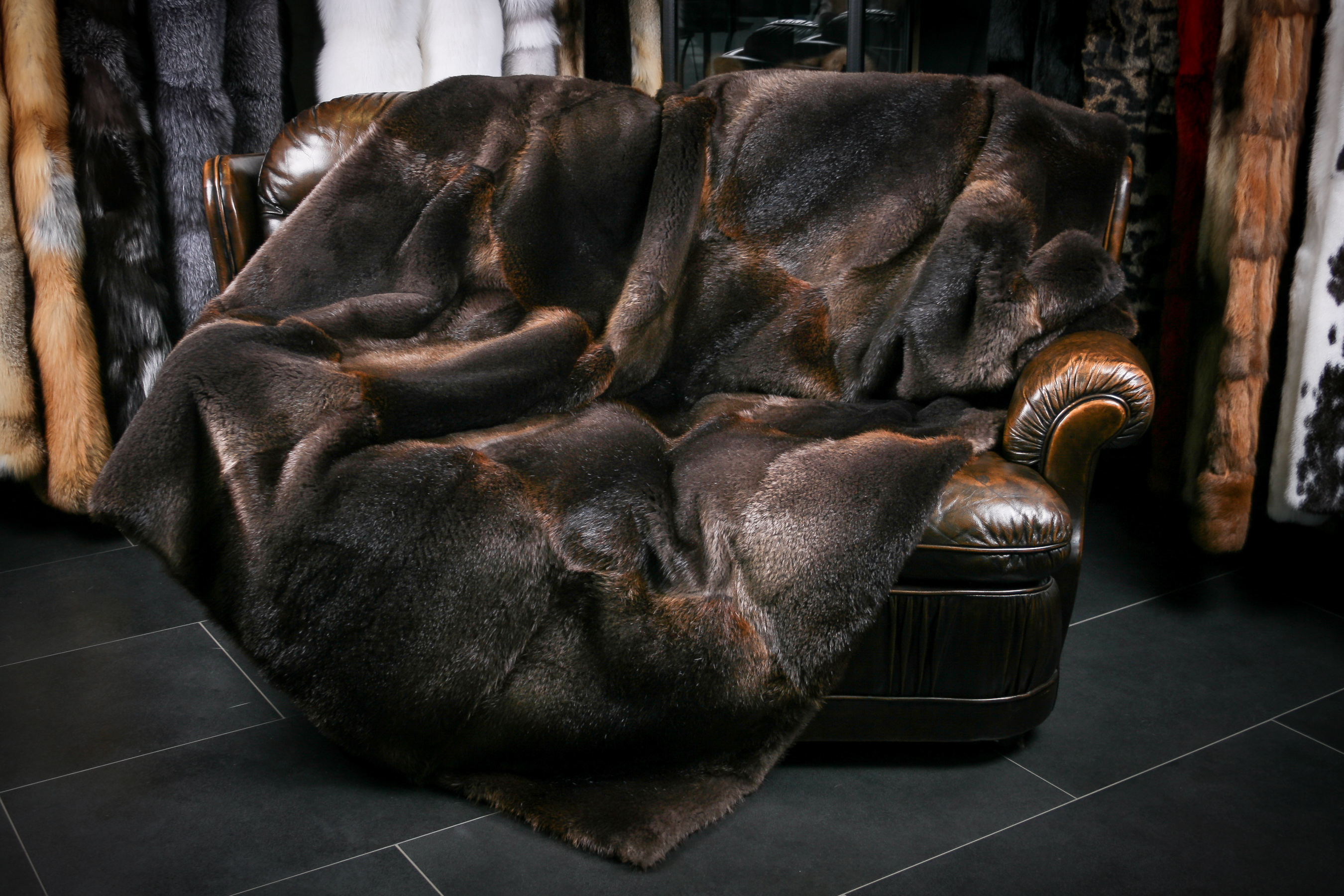 Fur blanket from Canadian beaver skins "Winter Dream"
€1,890.00*
€2,590.00*
(27.03% saved)
Natural beaver fur blanket from Canadian beavers "Winter Dream"
Discover our Canadian beaver fur blanket made from real beaver skins. We used high-quality Canadian beaver skins to guarantee the quality and manufacturing of this fur blanket and to ensure you will be just as satisfied as we are. The furs for our Canadian beaver fur blanket origin from the renowned Fur Harvesters Auction. We chose to back lining that matches the color of the fur blanket perfectly. Of course, we gladly craft the fur blanket in the size of your desires.
Type of fur:

Beaver

Size (+/- 3%)::

ca. 200 x 140 cm(2,8m²)

Color:

Brown

, Natural

Back Lining:

Darkbrown Wool Lining (98273)

Inlay:

German producer

, Soft wadding/inlay (100% pure wool)

CITES (Convention on International Trade in Endangered Species of Wild Fauna and Flora):

Article is freely tradable

, The article is freely tradable worldwide

Certification:

FURMARK® certified

Country / Region:

Canada

, North America

Dressing:

Dressed within the European Union - by European standards

Finishing:

sheared

Latin Name:

Castor canadensis (Beaver)

Origin:

The animal species is considered a pest in many regions and is therefore hunted. Wild Fur (from controlled hunting).

Weight:

ca. 3,8 kg
---
I mog di Pelzdecke sehr, schneller Versand
Wir kommen aus Österreich und haben die Biber Decke innerhalb von 2 Tagen zugestellt bekommen. So schnell haben wir nicht damit gerechnet. Wir haben im letzten Jahr eine Rotfuchsdecke gekauft und waren schon sehr zufrieden.
Die natürliche Farbe dieser Biber Pelzdecke ist wirklich schön. Qualität ist auch sehr hochwertig. Diese Pelzdecke bekommt definitiv eine Empfehlung von mir!
Schöne Pelzdecke - weiche Biber Felle
Mir gefällt diese große Decke sehr und ich nutze die Biber Pelzdecke täglich. Insgesamt eine sehr gelungene,edle, Pelzdecke, die mich gut durch den Winter gerbacht hat.
Ich glaube ich bin im Himmel..
Moin moin, die Felldecke hat gewonnen! Meine Neugier war nicht zu bremsen. DIE IST SOWAS VON TOLL! Kuscheln fühlt sich an wie schwelgen auf Wolke 7. Ihr macht wirklich hervorragende Arbeit. Ohne Worte! Wunderschöne Biber Pelzdecke!
Habe mir im Winter eine dieser traumhaften Biber Pelzdecken für das Wohnzimmer gekauft und bin so begeistert, dass ich mir nun eine weitere für das Schlafzimmer bestellt habe. Freue mich schon auf die Ankunft. Ich kann sie einfach nur weiterempfehlen. Super weich und sieht einfach klasse aus.
Fühlt sich toll an und sieht toll aus
Einfach eine super tolle Decke. Sie hält warm, fühlt sich gut an, sieht gut aus und ist top verarbeitet. Leider war der Karton ein bisschen kaputt, deshalb nicht alle Sterne.
Better and deeper sleep - love it
A great beaver blanket. I've had it for two weeks, but right away, it was fantastic. The weight feels great when you're under the covers; it's not extremely heavy or anything, it's just a great relaxing feeling. I also have the feeling that I slept more deeply, but of course. In any case, I fell asleep faster with this fur blanket. It usually takes me 15-20 minutes, and with the blanket, it was definitely quicker.
Herzlichen Dank an alle Mitwirkenden für die tolle Arbeit!
Liebes Paustian-Team, ganz herzlichen Dank an alle Mitwirkenden für die tolle Arbeit bei unserer neune Biber Decke. Wir sind begeistert von der Pelzdecke! Viele Grüße aus Berlin von Familie K.
The blanket is exquisite.
Lars Paustian provided incredible service and communication. The blanket is exquisite.
Leicht, warm und kuschelig
Seit ich diese tolle Biber Felldecke von Lars Paustian erhalten haben, benutze ich die Pelzdecke täglich. Bislang war ich immer der Meinung, dass Pelzdecke gleich Pelzdecke wäre, aber ich wurde eines Besseren belehrt. Die Decke ist mit ihren knapp 200 x 140 cm schön groß und hat eine fantastische Verarbeitung. Ein toller Blickfang ist der geschorene Biber und die warme Farbgebung. Die Decke ist schön dick und griffig und trotzdem nicht zu schwer. Sie hält schön warm und übermäßiges Schwitzen trotz laufender Heizung konnte ich nicht feststellen. Ich kann diese Decke auf jeden Fall empfehlen, sie ist hochwertig, angenehm und zudem noch ein toller Blickfang auf der Couch.
Do you have questions?
You would like to purchase a fur product in a different size, color or another back-lining? We can customize every fur product. You can also order every article via telephone or email. Just contact us via telephone: +49 4316611390 or via Email: info@master-furrier.com
Canadian Beaver
The Canadian beaver (castor canadensis) comes from North America and has a particularly soft and dense underwool. The Canadian beaver belongs to the best beaver skins available and is ideal for producing the highest quality fur products. We buy the beavers skins directly at the Fur Harvesters auction in Canada. We sheared our beaver skins for an incredibly soft touch and feel to receive first class fur products like beaver blankets and pillows. Beaver skins have stable and elastic leather, and the skins are very durable so that we can guarantee you that you will have a long-lasting pleasure with our beaver products.  If you have any questions regarding our beaver fur blankets, please do not hesitate to contact us.
NATURAL QUALITY FOR YOUR WELL-BEING
| | | |
| --- | --- | --- |
| | | |
| Sustainable materials of the highest quality | We use exclusively real fur | Fur is naturally breathable |
Auction House - Fur Harvesters
Fur Harvesters Auction Inc. is a Canadian fur auction house in Ontario and is considered to be a premium label of quality in the fur industry. Several auctions are held by Fur Harvesters each year. Fur Harvesters offers excellent Canadian wild fur skins such as Canadian red fox, raccoon, coyote, and beaver fur skins. Fur Harvesters demonstrates that fur is a natural and renewable resource from regional, professional hunting. Canadian wildlife is a fundamental part of Canada's heritage and history. Fur Harvesters has gained international recognition and respect for its outstanding line of unique and luxurious fur skins.